Environmental characteristics and anthropogenic disturbances
in marine Ramsar sites: the Cananéia-Iguape-Peruibe
Marine Protected Area, Southern Brazil
Guest Editors:
| | | | | | | |
| --- | --- | --- | --- | --- | --- | --- |
| | | | | | | |
| Elisabete de Santis Braga | | Juliana de Souza Azevedo | | Joseph Harari | | Carmen Gonsalez Castro |
| USP | | UNIFESP | | USP | | IIM-Vigo |
| 0000-0001-5780-3814 | | 0000-0002-8231-9669 | | 0000-0002-7094-4504 | | 0000-0001-7415-078X |

Submit your contribution via ScholarOne Portal
About this Research Topic
Marine Protected Areas (MPAs) are critically important to preserve species and maintain ecosystem dynamics. However, such conservation units are constantly subject to the input of chemical compounds and other anthropogenic impacts, which can change natural processes and promote adverse effects on living organisms.
Although there are 27 Ramsar sites (priority areas for international conservation) in Brazil, few are in marine ecosystems. The Cananéia-Iguape estuarine-lagoon complex (CIELC) integrates the Cananéia-Iguape-Peruíbe environmental protection area as a biosphere reserve (UNESCO), and in 2017 was included on the Ramsar list of wetlands of international importance, and is considered a priority area for conservation. The southern region of the CIELC is relatively well preserved, but the northern sections receive anthropogenic inputs from Ribeira de Iguape river outflow via Valo Grande (an artificial channel).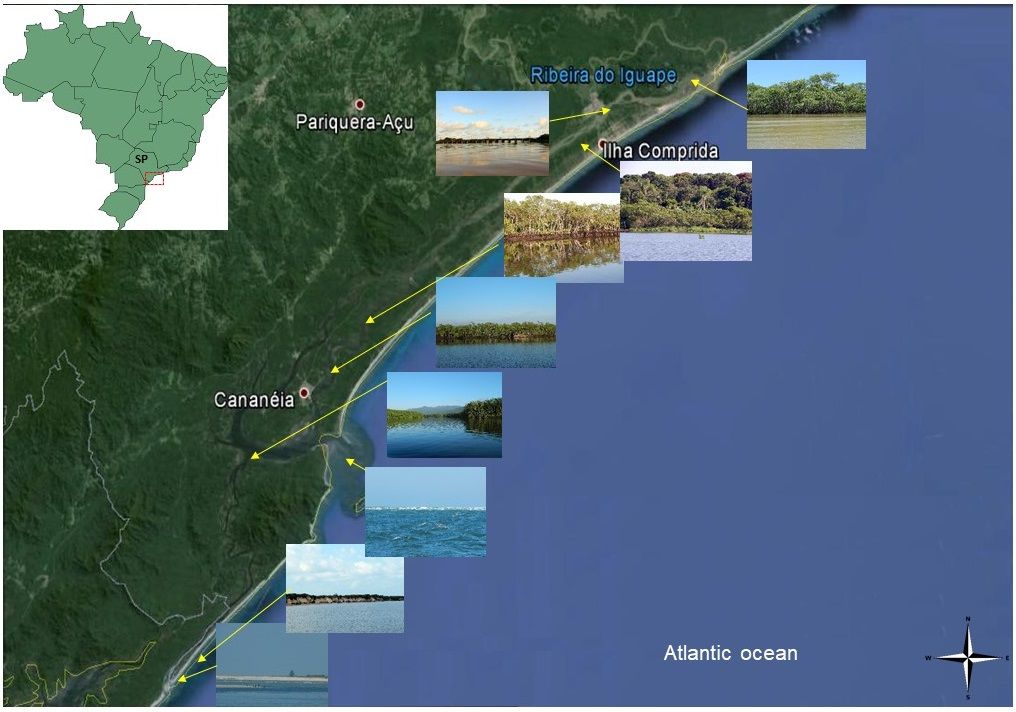 This special article collection will bring together contributions aiming to promote a more complete understanding of ecosystem processes in this important coastal wetland, providing a solid scientific background for conservation actions and policies.
We welcome contributions on, but not limited to, the following topics:
-Local effects of climate changes and modeling in coastal areas;
- Hydrodynamics in the estuarine environment;
- Modeling approaches to investigate changes to global cycles that can predict responses to internal and external forcing on a variety of temporal scales;
- Environmental and ecological bioindicators;
- Coastal and estuarine pollution - biogeochemical processes controlling the behavior, transport, and fate of inorganic and organic compounds;
- Bioavailability and ecotoxicological state of contaminants, and their potential impact on the ecosystem and human health;
- Ecotoxicity and ecological risk, human exposure and health effects, remediation and intervention;
- Biogeochemical cycles of nutrients, micronutrients, and metals, deoxygenation and carbon cycle along salinity gradients and as indicators of the balance of the system (fluxes, distribution, and transport);
- Organic matter dynamics in different compartments and their biotic and abiotic interactions;
- Nutrient and metal distribution and fluxes in relation to interface processes (atmosphere-water-sediments-continent);
- Estuarine and marine geochemistry - geochemical proxies and environmental analysis of modern and past systems;
- Coastal processes, marine erosion, and sedimentation;
- Biodiversity under environmental variation caused by natural and anthropogenic influences;
- Socio-environmental relations – drivers of environmental changes and resilience capacity;
-Perspectives and new research horizons.
This special issue is open for submissions until August 31st, 2022
To submit your contribution, please access the ScholarOne Portal
and select the special volume during the manuscript submission process.
When submitting your manuscript to a Special Article Collection,
please indicate on the cover letter to what special article collection we must allocate your contribution.